Planning for new construction or renovation works can become more circular by incorporating secondary materials and designing for the whole lifecycle of the building or infrastructure and its components and materials. The use of secondary materials requires early planning in the value chain, and it is an important part of the pre-demolition audit. Planning for the future use of the material in the structure is also important. Design for disassembly, flexible programming, and digital documentation of material contents, including any necessary repair and maintenance, can enable longer lifecycles and far greater recoverability of value. In tendering and contracting for design and construction works, use of reused or recycled materials can be encouraged or required, as can documentation in a material passport. Urban planning and development and city decision making frameworks should foresee sharing of spaces and enable recirculation of construction materials.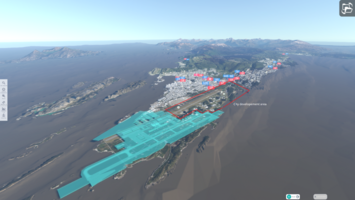 This tool visualises all city structures, materials, emissions and flows such as energy use in real time. It integrates qualitative data such as SDG indicators. The purpose of the tool is (1) to allow for future scenario planning by considering the surrounding context and simulated impacts, and (2) to present sophisticated data in a visual way for involvement of citizens and non-specialists in city-planning through Bodø's CityLab.
Demonstrated in: Bodø
Full instrument to come
CityLab stakeholder platform
This tool is a physical and virtual platform for stakeholder engagement on Bodø's city development. Hosted at the town hall or other municipal premises, the CityLab integrates the 3D visualisation of Bodø to stimulate imagination and opinions on the city's future. It also offers an information portal to solicit inputs from citizens, civil society organisations and local businesses to involve them in planning and decision making.
Demonstrated in: Bodø
Full instrument to come
Lifecycle CO2 calculators for concrete, soil and mixed CDW
Circular economy approaches focus on maintaining the value of materials for as long as possible. A circular economy seeks to keep materials in circulation, minimising the concept of waste from the system and the need for virgin material extraction from primary sources. In a completely circular economy, waste production should align completely with the input of new products.
Demonstrated in: Apeldoorn, Bodø, Høje-Taastrup and Roskilde
This platform will be a centralised virtual hub for software tools and datasets developed by the city of Seville to support its sustainability goals. It will include tools for data-driven planning of collection and treatment of various waste fractions, for evaluation of citizen satisfaction and policy effectiveness, and for simulation of future scenarios of city development. The purpose of combining these tools in a platform is to support cross-sectoral dialogue and facilitate data exchange.
Demonstrated in: Seville
Full instrument to come
Wellbeing monitoring tool
This software tool combines varied data on the city of Seville's quality of life - such as waste generation per capita, access to green spaces, and other demographic and sustainability indicators - to measure progress towards the city's sustainable development goals and project the socio-environmental impacts of specific policy initiatives.
Demonstrated in: Seville
Full instrument to come
Instrument for predicting soil prediction
This is a methodology for the prediction of soil production related to construction works and urban development. The methodology is primarily based on information on municipal planning, which describes what areas are to be developed, how development is to take place and the expected timeframe of development
Demonstrated in: Roskilde, Høje-Taastrup