The CDW materials suitable for recycling must be handled and managed for demanded materials in new structures. They may require testing and qualification of material properties to certify that they are safe and fit for purpose in new uses. Logistics and management are required to sort, transport, store, and track materials for matching supply and demand. Materials should be thoroughly documented, with quantitative and qualitative data necessary to facilitate their transition to future applications. Information about available secondary materials should be integrated into valorisation opportunities, e.g. through material marketplaces. The materials prepared for recycling must meet specific requirements for materials in new structures in accordance with specific material passports, end-of-waste criteria and technical specifications.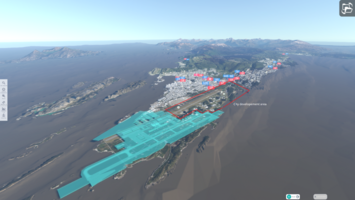 This tool visualises all city structures, materials, emissions and flows such as energy use in real time. It integrates qualitative data such as SDG indicators. The purpose of the tool is (1) to allow for future scenario planning by considering the surrounding context and simulated impacts, and (2) to present sophisticated data in a visual way for involvement of citizens and non-specialists in city-planning through Bodø's CityLab.
Demonstrated in: Bodø
Full instrument to come
3D modelling to track onsite CDW flows
This tool uses a camera drone with a photogrammetry software to model and to monitor demolition sites by image-based scanning. The tool produces point clouds to be used for 3D visualizations and 3D calculations of buildings and material quantities, as well maps and other GIS data about the site. A similar methodology is used e.g. in the extractive and AEC industries.
Demonstrated in: Mikkeli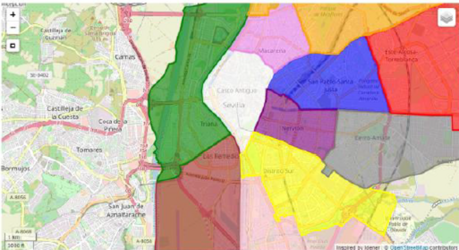 This software tool for municipalities can be used to model possible scenarios for CDW management considering location and size of 'Clean Points', transport and collection routes. Factors such as type, origin and volume of the material, CO2 emissions and loading of the waste trucks, and distance travelled are optimised to plan in a way that minimises negative environmental impact and maximises logistic efficiency.
Demonstrated in: Seville
CDW Materials databank and digital marketplace
The databank combines and stores data from the 3D scanning tool (using drone imaging), also allowing the data to be included on the marketplace of construction materials (CDW) from demolition sites around the city of Mikkeli. The purpose of the databank tool is to centralise and display the relevant information on recovered CDW in an organised and accessible manner.
Demonstrated in: Mikkeli
Quality assessment for CDW
This assessment methodology is a guide that aims to guarantee the quality of the building works when CDW is used in construction, in particular for sewage and water network infrastructures. This guide can be used as a procedure to use residual materials from demolitions, such as concrete, by understanding how they will perform in new construction uses.
Demonstrated in: Seville